Butterwicks 'New Business' Package

Butterwicks HBS Limited are a brand new business venture, specialising in the confidential buying and selling of carehomes. Butterwicks came to Amasci Creative Limited after a recommendation from another local company. Butterwicks were initially looking for support in establishing their initial business branding and identity moving onto a full website and 'new business setup' package.
The 'new business package' we created for Butterwicks included:
Full Company Branding and Logo Creation
Full Website Design and Creation
Email and Hosting
Email Setup and Support
Email Signatures
 Business Cards and Letterheads
Marketing Advise and Business Marketing/Promotion Ideas

Initial Company Branding
The design and creation of the logo and company branding was the first stage in the project. We had discussed ideas and concepts with the Director before we supplied a range of initial logo concepts. Once these concepts had been presented the client gave feedback and we proceeded to revise two if the initial 10 concepts. This process moved forward exploring different colours and fonts until the final logo was born.
Once the logo was established we established a working design and full set of branding guidelines.
The initial brand identity for Butterwicks was based on a traditional, strong and professional style which was important within the market and industry. It gives the clients assurances they are dealing with an experienced and professional agent which is extremely important.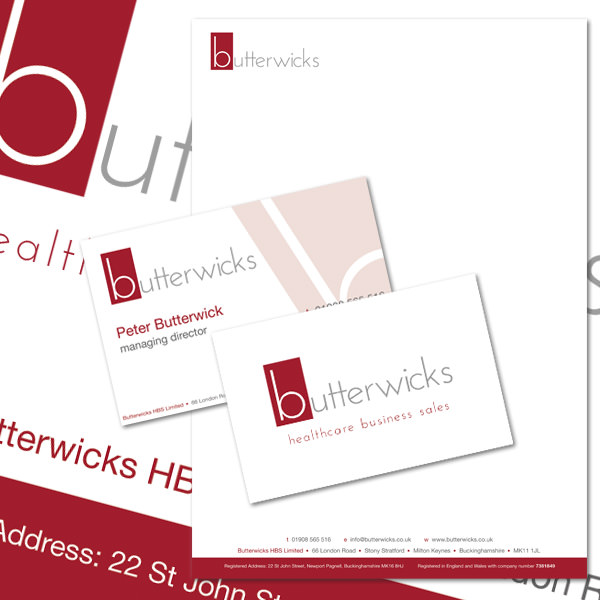 Business Cards and Letterheads
With the initial logo and branding established we moved on to the creation of the corporate stationery, this included Business Cards and Letterheads.
We listed to the information requirements from the client and created the business cards and letterheads around their specifications. The client chose to source their own printing which we then supplied final print-ready files.

Website Design and Hosting
After all the stationary and branding was complete we took the newly created branding and logo and designed a fully functional 7 page website.
The website was a very important part of the project as this would be the primary tool to advertise listings and also generate business. We used the main Butterwicks maroon colour to give a strong appearance to the website whilst contrasting this with nice stark non-descript black and white imagery. The website is a static site but features key areas within the homepage as well as the latest listings. There is also a buyers registration form which is created to establish as much information as possible initially in order to aid both the client and Butterwicks.
As part of the website design/creation process we also setup the client with our super Business Lite hosting package and assisted them in the installation of their POP3 email accounts, whilst offering on-going support for these.

Email Signatures
Finally the last part of the project was to create an email signature to be used with their POP3 email accounts within Microsoft Outlook. We designed and created this again based on the branding and with optimised email signature design in mind, we also set this up within their email accounts.
You can view the website here at http://www.butterwicks.co.uk