There are loads of web design agencies out there. Lots of them are doing a great job, but there are plenty who'll take a shortcut or two to get a site live. We're happy to say we fall into the first camp – we put a huge amount of effort into every site we design and build to make sure it meets your exact requirements and the requirements of your customers.
Here's a few things you can expect when you work with us.
We'll get to know you and your business
This is so important. Meeting new people and getting to know a variety of different businesses is one of the best things about what we do. We'll always make sure we understand the market you're working in, who your customers are and what you need to achieve. Only then can we begin designing a site that's a true reflection of your business and brand. And we'll stay in constant contact with you throughout the process to explain what's happening at every turn.
We'll design and create your new site from scratch
Websites should be as unique as the organisations they represent, which is why we always design bespoke sites and never use templates. Our discussions with you will lead to an initial map of the site and wireframes for each type of page, showing different types of content and how they will be positioned to make the most logical journey for your customers. When we've agreed this basic structure we'll begin working up the design.
Talk to us if you want to know more about the process or technologies that drive the design and development of our sites.
We'll build you a responsive site as standard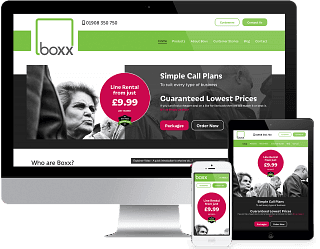 What's a responsive website? It's a site that automatically adjusts depending on the size of the screen it's being viewed on. This website is responsive – make the window smaller and the content will shrink and shuffle to give you the most convenient view. See?
There are lots of reasons why responsive websites are becoming 'the norm'. Firstly, our habits are changing and mobile devices are surging in popularity and we're increasingly using tablets and smartphones to browse the web. We've come to expect a user-friendly experience, whichever device we're using. To ignore the trend for responsive design would be to ignore the needs of a huge proportion of your potential customers. It's also more cost effective to do things this way, as you're saving time on developing and updating a separate site for mobile users. As an added bonus, a single site for all users lends itself to a higher ranking on Google.
We'll stick around for you
Our service doesn't stop when your site goes live. You're likely going to need marketing and ongoing maintenance and support, and as your business grows, your site will need to change and grow too. We really value partnerships and hope we'll be able to carry on working with you for a long while.
Take a look at our website maintenance & support service to see how we can help your business and website grow and develop.
Let's discuss your requirements…
As a Milton Keynes based web design & development company we strive to offer a personal service! We're a friendly company, so please give us a call us on 01908 668 665 or email us at creative@amasci.co.uk. We will always be happy to answer your questions and explain what we do or how we work.