Cladwinds Branding, Website and Print Design

Cladwinds Limited contacted Amasci Creative after being letdown by another local agency. The project involved a complete redesign and development of the existing Cladwinds website, creation of a new logo and branding as well as designing marketing materials, to include double sided leaflet and newspaper/magazine adverts.
Cladwinds Limited are a Bedford based specialist in uPVC Windows, Doors and Conservatories. Established in 1985, Cladwinds supply and fit superb uPVC products and bespoke projects all of which are covered by their comprehensive 10 year guarantees.
The website contains many features and technologies and was created to illustrate the vast range of products and high quality services that Cladwinds offer their customers.  Some of the features on the website include:
jQuery Highlight/Features Box on the homepage
Dynamic Latest News on the homepage
PHP Random Testimonials on the homepage
PHP Quick Enquiry Form
Mini Photo Galleries
Form Protected Downloads Area
Specification and Related Image PopUps
Recommend A Friend Facility
Comprehensive PHP Enquiry Form
Sitemap
We have created the above functionalities through a combination of PHP and JQuery Scripts. All the website pages are built using PHP to keep maintenance and updating much easier and quicker, resulting in an overall better and more cost effective service for the customer.

Email Signature and Hosting
As well as creating a new brand identity and logo design for Cladwinds Limited, we also designed, created and installed a complete HTML email signature which can be seen above.
As part of the website design/creation process we also setup the client with our super Business Lite hosting package and assisted them in the installation of their POP3 email accounts, whilst offering on-going support for these.
Print Design
As we created a new brand identity and logo design for Cladwinds Limited we had to carry this through the marketing literature and bring this inline with the new style of the website and brand. We therefore designed a double sided leaflet and advert to be featured in local publications. These can be seen below.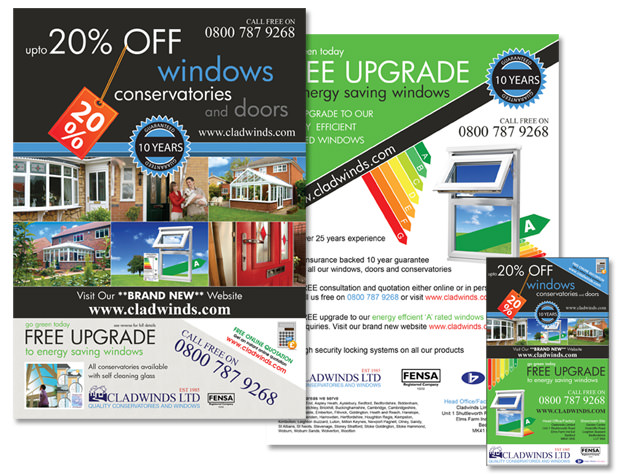 Overall the site has been a great success and well received by the client.
The website can be seen in full here – http://www.cladwinds.com