Dengrove Website and Maintenance

We have recently undertaken the redesign of the Dengrove Electronic Components website. This is the second redesign of the website we have created for Dengrove after the initial design and creation was completed early in 2010.
The new website was designed and created by ourselves after working closely with their new commercial director. The main aim was to restructure the navigation and to add a host of new services and products to the website. The homepage was also a prominent focus on the re-design and we had to maximise cross exposure of the key products and services whilst maintaining certain features such as the latest news and brief company profile.

We introduced a jQuery scrolling banner on the homepage to promote each of the main product areas that Dengrove offer, this was created to randomise the order therefore giving equal exposure to each item.
We recreated the CMS latest news facility to be in keeping with the new website design  and continued to promote this on the homepage.

Degrove took out our Ai eShots package and so we introduced a newsletter signup facility within the news system to allow users to subscribe to receive a copy of the eShots. Along with this we also created a bespoke email marketing template for Dengrove. Again this offers cross promotion to the website. You can see an example of the eShot below.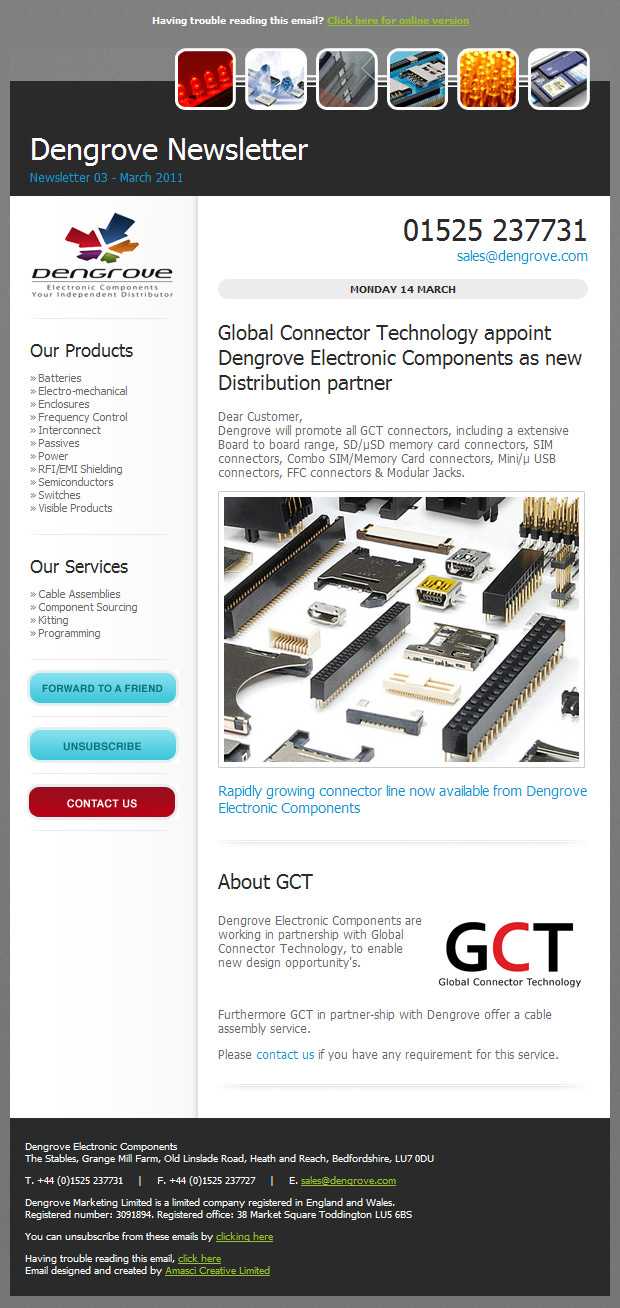 Finally, Dengrove also decided to take out a maintenance package with Amasci to design, create and send their eShots and to add the news articles to the website too. The package allows Dengrove to get a fully managed, optimised, professional service guaranteed to be updated with 24 hours of their requests, meaning an instant reliable service that frees their time too.
You can see the new Dengrove website here - www.dengrove.com