SBL Sustainability Consulting Limited 'New Business' Package

SBL Sustainability Consulting Limited were recommended to Amasci Creative Limited by one of our existing clients. SBL Sustainability Consulting Limited are a small startup business and required our 'New Business' Package.
SBL Sustainability Consulting Limited  is a small independent consultancy committed to providing advice and support to enterprises of all sizes on issues of sustainability with one common objective; that the sustainable solution must have a demonstrable benefit to the business, as well as to a wider society.
We worked closely with the client to initially establish their requirements and review their input and put together a 'New Business' Package that suited their needs as a start-up venture. This 'New Business' Package included:
Initial Corporate Branding and Logo Design
Bespoke Designed 6 Page Website
Business Stationery - letterheads and 3 versions of business card
Digital Stationery - Microsoft Word version of the letterhead
Printing Services
The website contains many features and technologies and was created to illustrate the high quality services that SBL Sustainability Consulting Limited offer.  Some of the features on the website include:
jQuery highlight services box on the homepage
jQuery scrolling messages on each service page
PHP quick enquiry form with  captcha functionality
Search Engine Friendly (SEF) URLS
Latest Twitter Feed
FancyBox jQuery Popup to view large graphics
We have created the above functionalities through a combination of PHP and jQuery Scripts. All the website pages are built using PHP to keep maintenance and updating much easier and quicker, resulting in an overall better and more cost effective service for the customer.
Stationery Design
As we created the brand identity and logo design for SBL Sustainability Consulting Limited we had to carry this through into the corporate stationery. We therefore designed three versions of the business card and a letterhead.  These can be seen below: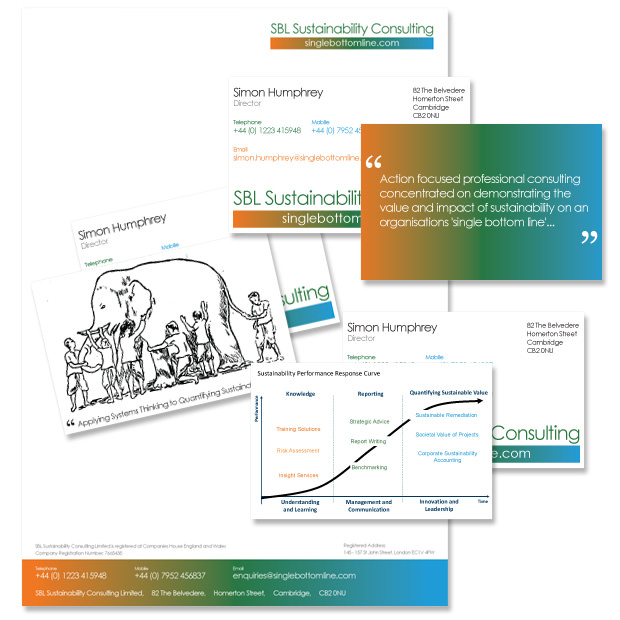 Overall the site has been a great success and well received by the client.
Amasci were a pleasure to work with throughout the process of design, first drafts through to completion. I have already, and would continue to recommend Amasci to anyone. I am very happy with how the website turned out. Amasci acted in a very professional, friendly manner throughout, all the work was delivered on time, on budget and with high quality.

Simon Humphreys, Managing Director